The 2023 Subaru Love Promise Community Commitment Award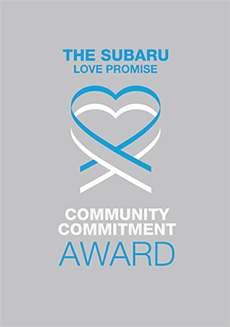 We've been nationally recognized for our dedication to our community and the Subaru Love Promise.
We're honored to receive the 2023 Subaru Love Promise Community Commitment Award. This award nationally recognizes Subaru retailers who are making the world a better place while demonstrating an outstanding commitment to supporting passions and causes in local communities. These efforts are focused in important areas such as the environment, community, health, education, and pets.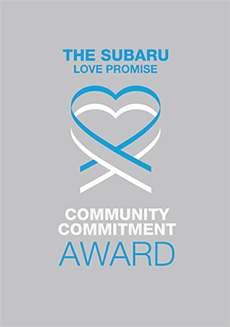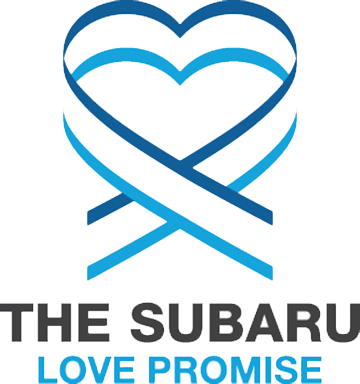 What is the Subaru Love Promise?
Subaru and our retailers believe in making the world a better place and the Subaru Love Promise is our vision of respecting all people. This is our commitment to show love and respect to our customers and to work to make a positive impact in the world.
How is Sterling Subaru dedicated locally to the Love Promise?
Our Love Promise can be seen in various partnerships with local charities and non-profits. We're grateful for the opportunity, not only to be a part of our community, but to serve it as well.
Love Promise Stories from Sterling Subaru
Subaru and Sterling Subaru believe in making a positive impact on the communities in which we live and work. We uphold that belief through our Love Promise Community Commitment. Every month, we select inspiring stories from customers and partners from around our area who strive to support our collective commitment and feature them here
Make A Wish Reveal Star Wars Party - Angie F
Kian Atkin and Angie French interviewed Bentley at his home with his two brothers, little sister and his parents on Saturday, June 11, 2022. We learned that Bentley's wish was to go to Disney World for several reasons. His biggest reason is to see Star Wars because his favorite character is Luke Skywalker! Bentley deals with epilepsy seizures and struggles with feeling different. He likes to play with his friends, walk his dog and play tag. His wish to go to Disney World was granted at his Wish Reveal Party on Friday, Dec 30. Kian and Angie organized a Wish Reveal party at Sterling Subaru in Bryan for his family. Members of the 501st Star Wars squadron and Obi-Wan (played by Dave French) were part of Bentley's adventure to find R2D2 (who actually had his Wish to go to Disney World!) Bentley is a quiet ten year old but he participated in the adventure talking to a Jawa, engaging Storm Troopers, rescuing a pilot, encountering KyLo Ren and his final battle was with Darth Vader! He beat them all to rescue the plans! When he sat down with his Mom to eat his piece of cake, we overheard Mom saying, "It's ok, Bentley, you can cry if you want." After cake and other goodies, we played a roaring game of musical chairs and Simon Says. Bentley won musical chairs by convincing another player using Obi-Wan's phrase, "This is not the chair you are looking for." Bentley is excited to 'see all the cool things' at Disney World and make memories with his family! We super appreciate all the members of the 501st squadron, the staff and Jason Toal, Sales Manager at Sterling Subaru and HayLeigh Miller who make a beautiful Star Wars cake for Bentley's Party.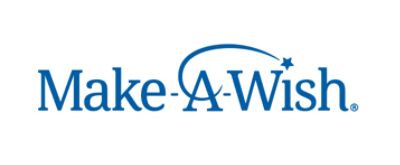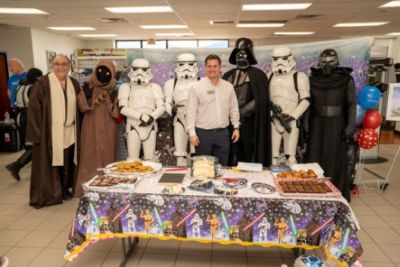 ---
From Resilient Parvo Pup to Forever Family - Savannah G
Through our partnership with Sterling Subaru, we hosted a microchip and adoption event in October. By the end of the events, Aggieland Humane Society and Sterling Subaru helped 19 find their perfect, loving home, and 85 pets receive microchips. Sam is one of the many pets who found his forever home at the Sterling Subaru adoption event. Sam arrived in our care lethargic, suffering from diarrhea, and severely underweight. A test confirmed our worst fears, Sam was diagnosed with Parvo. Parvo is deadly to puppies, and we had to take immediate action to ensure he had a chance at survival. Isolation was also key to ensuring no other pets contracted this highly contagious disease. Sam was placed on fluids in isolation until his foster arrived. From that moment on Sam's life would change. After fighting off parvo, Sam spent the next two months gaining weight and learning to be a happy puppy. Finally, it was time for him to find his permanent home. Sam's foster family arrived that morning to help Sam find his new family, but quickly realized they were Sam's family! They adopted Sam! This is just one of the few stories made possible by Sterling Subaru! Thank you for the generous partnership!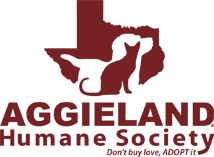 ---
Can't Express How Happy I Am - Madisyn H
I haven't had much luck with cars I've owned in the past. After my last car broke down on me, I knew it was time for a major upgrade. I made the decision to give Sterling a visit, since I have heard nothing but good things about this particular dealership. Not only that, but I have been wanting to get my hands on a Subaru Crosstrek for quite some time. I couldn't afford a brand new car, so I honestly didn't know what kind of vehicle I was going to leave with. I arrived at the dealership and met with the sales manager, Jason Toal. He was extremely friendly and super helpful. He informed me that there was a used 2017 Subaru Crosstrek with low mileage, that had just arrived in the lot. It was an amazing deal that I could not pass up. This car is just perfect for my lifestyle. Not to mention, my two dogs love the upgrade as much as me! I couldn't be more satisfied with the vehicle I was able to get through Sterling Subaru. I am incredibly happy. Needless to say that I plan to stick with this dealership for any future vehicle purchases.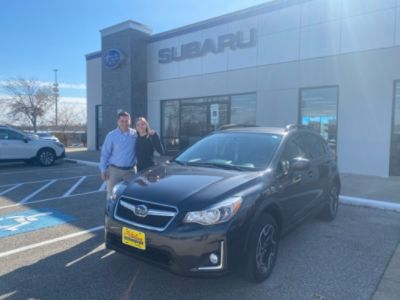 ---
Sterling Subaru Loves Learning - Amy T
This August Sterling Subaru donated school supplies to the wonderful teachers at Johnson Elementary School. Sterling Subaru loves to help the kiddos!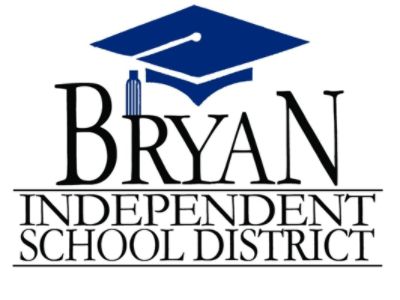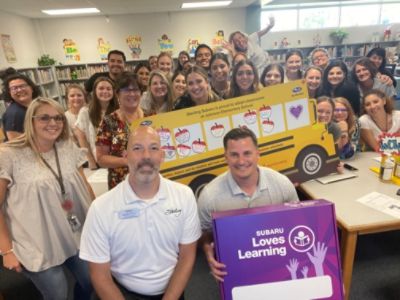 ---
Two Soulmates Find Each Other, At Last! - Ashley Q
Courage waited precisely 100 days to find his forever home. Every day Courage spent at the shelter was another day we were perplexed that no one chose him. We could not understand why this gentle soul was still waiting for his person! The morning of our Sterling Subaru adoption event, it became clear: Courage was holding out for his soulmate. Their bond was immediate when his adopter laid eyes on Courage in that showroom. Without Sterling Subaru, this pair may not have found each other. Today, Courage and his mom spend their days snuggling and loving on each other. They are the perfect match, and we have our friends at Sterling Subaru to thank for that!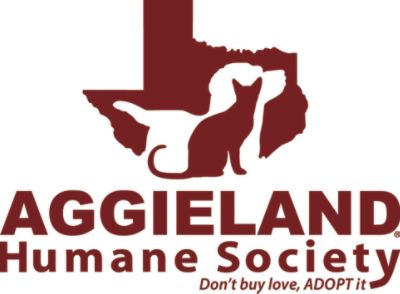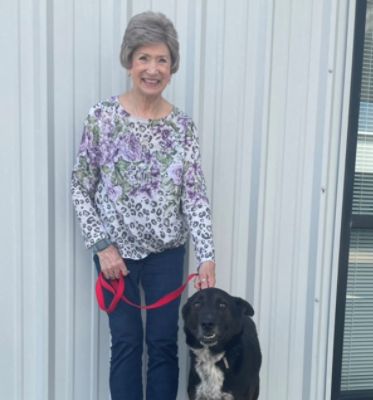 ---
Donating Blankets to Family Promise - Mathew C
Today Sales Manager, Jason Toal and Salesperson, Mathew Cox donated boxes of new blankets to the Family Promise organization in Bryan Texas on behalf of Sterling Subaru. Family Promise is a volunteer-based, non-profit organization that supports families with children by providing shelter, meals and support services as they work toward self-sufficiency. This is a cause that's near and dear to all our hearts. We know those blankets will be of good use and the team at Sterling Subaru is proud to be able to help!
---
Sterling Subaru Pet Adoption - Jason T
It has been over a year since we have been able to host a pet adoption and it feels so good to finally get back to helping fur babies find forever homes! Here are a few pics from the adoption.
---
Apollo the miniature horse - Carolyn Y
The staff at Aggieland Humane was asked to help place a miniature horse. At first, Apollo was going to be a therapy horse, but he just wasn't a good fit. Apollo was a stallion. That made it hard to find a home for him. So, he needed to be gelded. For Apollo, this meant an expensive abdominal surgery and extended recovery time. Thanks to donations from Sterling Subaru he received the surgery he needed and a round of routine vaccinations and other necessary tests. After a period of recovery he began to look for the right family. It turns out, the right family was looking for him too. They had another miniature horse who needed a friend. The two horses were a perfect match. Apollo's ready for the long, healthy life he deserves.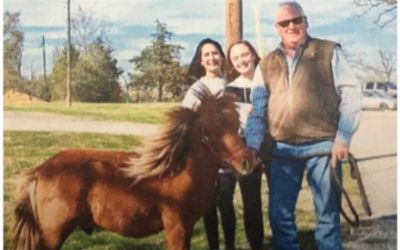 ---
Senior Pet Papa Joe Falls in Love... - Savannah G
An older fellow, Papa Joe is a 12-years-old dog, who was looking for the right home. The animal care techs and staff at Aggieland Humane were immediately enchanted with this sweet little old man. After all, who couldn't love a face like this? Sadly behind this cute face, Papa Joe's teeth were rotting, causing him pain. It was determined he needed to have eight teeth removed before he could find his forever family. He spent a few weeks in foster care recovering from this procedure, and of course, being pampered. When it was time, Papa Joe returned to Aggieland Humane Society in hopes of being adopted. On October 5th, Papa Joe's whole world changed! During the ASPCA and Subaru Fall in Love Adoption Special, Papa Joe met his match! Thank you for making stories like this possible. Your generosity gives hope to pets like Papa Joe.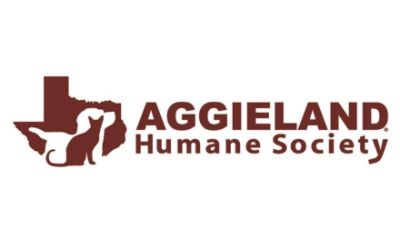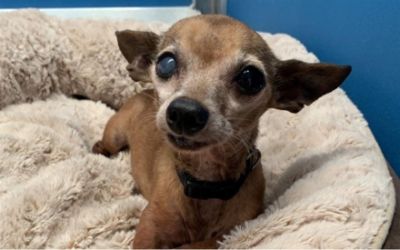 ---
Subaru Loves to Care - Phebe S
Sterling Subaru donated blankets this year to a wonderful organization here in Bryan called Family Promise. Led by Dr. Phebe Simmons and her team, Family Promise provides families going through troubled times a place to live and a hot meal as well as helping them get back on their feet. The living quarters are so nice it seems like a bed and breakfast. We thank Family Promise for everything they do for the community and it was a pleasure to donate the blankets knowing they will go well used this winter.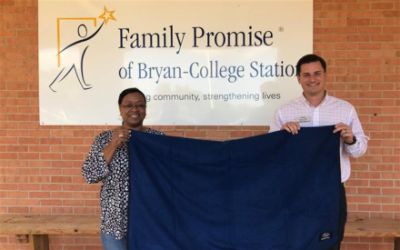 ---